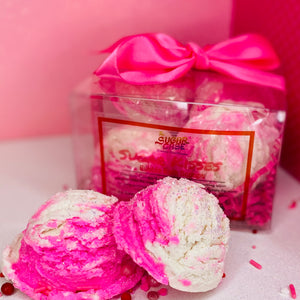 Sugar Kisses Bubble Scoops
These bubble scoops are cherry almond scented so much fun.   Your bathroom will smell so sweet you're creating a luxurious, soothing bubble bath. 
To create bubbles, simple break one bubble scoop in half using clean, dry hands.  Then crumble under running warm water and bubbles will form.  Agitate the water with your hand to create LOTS and LOTS of bubbles.  Do not drop the scoop in the water.  You will not get the same bubble effect. 
6 scoops (approx 1.5 oz each) enough for 6 bubble baths or if you break each scoop in half, you will get at least 12 bubble baths per package.  A little goes a long way.
This is a handmade product and colors of product may vary.
Keep out of reach of children and pets/ for External use only/ Use as directed.
Do not use on broken or irritated skin. Discontinue use if irritation occurs.
Do not use if you have a nut allergy. Made in a facility that uses nut, coconut and soy products. 
Warning: Oil in product may cause tubs, showers and surfaces to become dangerously slippery. Consult with your physician before use if you're pregnant or planning to become pregnant.  Our company does NOT make any medical claims to our products and our products are not intended for medical use.  We will never give medical advice.