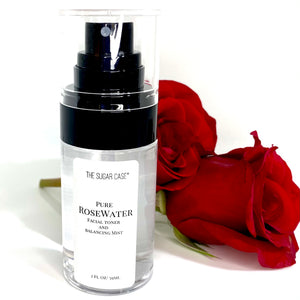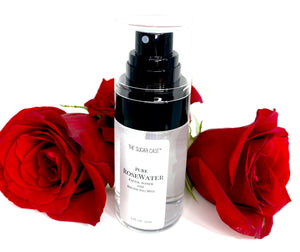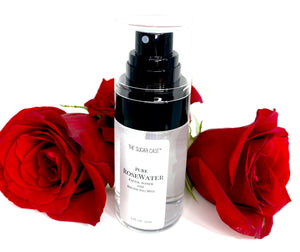 Pure Rosewater Facial Toner
Our Rosewater is 100% pure and steam distilled from rose petals. Naturally antioxidant-rich, soothing and hydrating.  Perfect for toning the face, eye area (avoiding the eyes),neck, décolletage and body.  The natural scent of fresh cut roses is also good for the hair.  Helps balance the PH for acne prone skin, dark marks, dry skin and great for combination oily skin.  
Rosewater is naturally packed with vitamins such as A, C, D, and B6.  Essential fatty acids and antioxidants.  
Can also be used as a setting spray before or after applying makeup.  
Rosewater is an ancient, natural beauty secret.  Pure Rosewater is naturally clear in color and should be kept in a dry, cool, dark space.  Always test a small area on the skin before applying.
How to use:  Lightly mist your hair, face or body to balance and hydrate the skin and/ or hair.  Avoid spraying in the eyes.  Can also use as a setting spray before or after applying makeup.  
This bottle sprays a very fine, hydrating mist. 

We offer 2 sizes 2oz  and 3.5 oz 
Ingredients: Rosewater (Rose floral water) is the only ingredient with no added fragrance or color.  Natural scent of fresh cut roses. 
Keep Out of reach of children and pets/ for External use only/ Use as directed.
Do not use on broken or irritated skin. Discontinue use if irritation occurs.
Do not use if you have a nut allergy.  Made in a facility that uses nut, coconut and soy products. 
Warning: Consult with your physician before use if you're pregnant or planning to become pregnant.  Our company does NOT make any medical claims to our products and our products are not intended for medical use.  We will never give medical advice.