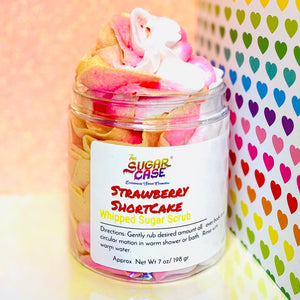 Strawberry Shortcake Foaming Whipped Sugar Scrub
Strawberry Shortcake Foaming Whipped Sugar Scrub has a wonderful scent of fresh strawberries, a hint of green apples and a soft note of vanilla cake.
This foaming whipped sugar scrub is very soft and has foaming and Lathering agents that will help clean damp or wet skin.  The added sweet almond oil helps moisturize the skin while the soft sugar gently exfoliates.  No worries, this scrub will not leave a greasy residue on the skin.  
Use 3-4 times a week to give your skin a radiant glow (avoiding the face and eyes).  
Directions of use:  During a shower or bath,  apply desired amount of the foaming whipped sugar scrub to a wet luffa or towel.  Massage with hands until you create amazing bubbles.  Gently exfoliate your skin in a circular motion.  Rise with warm water. 
This is a handmade product and colors of product may vary.
Keep out of reach of children and pets/ for External use only/ Use as directed.
Do not use on broken or irritated skin. Discontinue use if irritation occurs.
Do not use if you have a nut allergy. Made in a facility that uses nut, coconut and soy products. 
Warning: Oil in product may cause tubs, showers and surfaces to become dangerously slippery. Consult with your physician before use if you're pregnant or planning to become pregnant.  Our company does NOT make any medical claims to our products and our products are not intended for medical use.  We will never give medical advice.