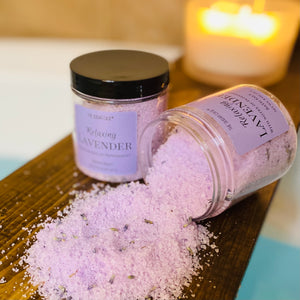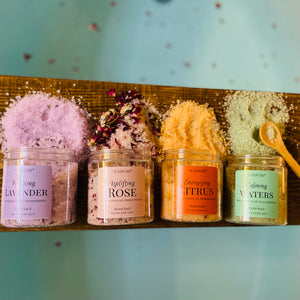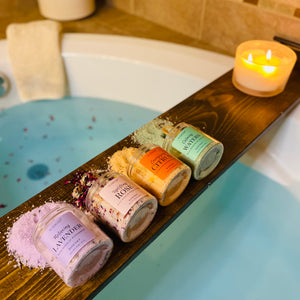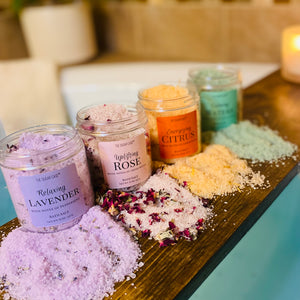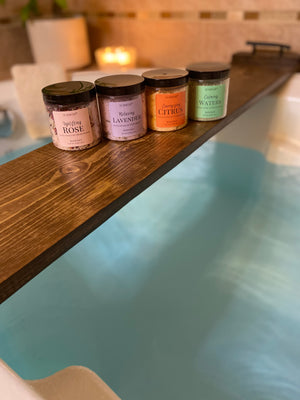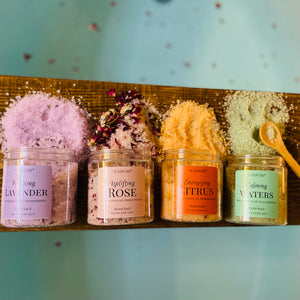 Relaxing Lavender Bath Salt
Relaxing Lavender Bath Salt has a soothing note of peppermint and calming scent of lavandula flowers .  Lavender is known to help improve sleep and is commonly used for stress and anxiety.  Made with European Spa Salt from the pristine waters of the Mediterranean Sea, is thought to be one of the purest salts in the world.  Produced using an ancient method of solar evaporation, in a region free of pollution, makes a very pure salt.  Create your personal spa in your own bathtub and relax.
Benefits of bath salts:
- Ease muscle and menstrual cramps. 
- Decrease stress
- Soothes Pain
- Stimulates circulation 
- Helps relieve stiffness in joints 
We've added sweet almond oil to help moisturize the skin and botanicals as well as essential oils for vital healing properties. 
8 oz/ 226 grams 
Approx. 4-5 baths per jar depending on the desired amount you use.
Directions of use: Sprinkle desired amount in a warm bath and enjoy. 
Ingredients: Sea Salt, Sodium Chloride (Dendritic Salt), Polysorbate 80, Prunus Amygdalus, Dulcis (Sweet Almond) oil, Lavandula Angustifolia (Lavender) Flower,  Essential Oil, Fragrance, Preservative, Mica.
This is a handmade product and colors of product may vary.
Keep Out of reach of children and pets/ for External use only/ Use as directed.
Do not use on broken or irritated skin. Discontinue use if irritation occurs.
Do not use if you have a nut allergy. Made in a facility that uses nut, coconut and soy products. 
Warning: Oil in product may cause tubs, showers and surfaces to become dangerously slippery. Consult with your physician before use if you're pregnant or planning to become pregnant.  Our company does NOT make any medical claims to our products and our products are not intended for medical use.  We will never give medical advice