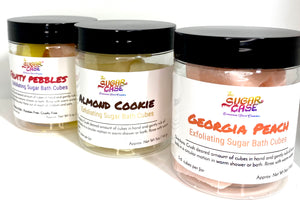 Georgia Peach Exfoliating Sugar Cubes
Our Georgia Peach Exfoliating Sugar Cubes will work wonders on the skin.  Exfoliate your body with a blend of soft shea butter, sugar, almond oil and other amazing ingredients.  These sweet cubes are a must have for your daily routine.  They smell amazing and will help moisturize your skin.  May also help reduce the appearance of cellulite. 
Made in USA - Paraben Free- Cruelty Free - Handmade

Approx 5-6 cubes per Jar 
Net Wt 5oz / 141 gr
Directions: Crush desired amount of cubes in hand and gently rub all over body in a circular motion in shower or bath.  Concentrate on any rough patches.  Rinse with warm water.  Recommended use is twice a week.
For External Use only/ Keep out of reach of children and pets.
Ingredients: Sugar (Sucrose), Butyrospermum Parkii (Shea Butter), Soap
(Coconut Oil, Palm Oil, Safflower Oil, Glycerin, Water, Sodium
Hydroxide, Sorbitol, Propylene Glycol, Sorbitan Oleate, Oat Protein,
Prunus Amygdalus Dulcis (Sweet Almond) Oil, Fragrance,
Phenoxyethanol (and) Caprylyl Glycol (and) Sorbic Acid
(preservative), Mica.
Keep Out of reach of children and pets/ for External use only/ Use as directed.
Do not use on broken or irritated skin. Discontinue use if irritation occurs.
Do not use if you have a nut allergy. Made in a facility that uses nut and soy products. 
Warning: Oil in product may cause tubs, showers and surfaces to become dangerously slippery. Consult with your physician before use if you're pregnant or planning to become pregnant.  Our company does NOT make any medical claims to our products and our products are not intended for medical use.  We will never give medical advice.