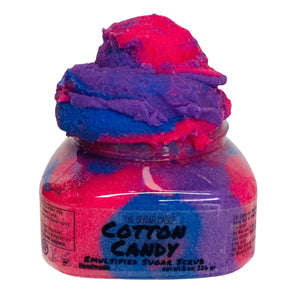 Cotton Candy Sugar Scrub
This Cotton Candy Sugar Scrub smells just like the real thing! Fresh, sweet county fair cotton candy.  
Our sugar scrubs are formulated to leave your skin hydrated, revitalizing and feeling smooth to the touch.
We blend high quality oils, raw shea butter and other ingredients to a creamy consistency with soft sugar; leaving you with an amazing textured sugar scrub.  This sugar scrub will not leave an oily residue on your skin. Your skin will glow and you will feel the added moisture in your gently exfoliated areas. 
All of our products are made in small batches in The USA.  Cruelty Free! Toxin Free! Paraben Free! 
8 oz Jar
Directions of use: 2-3 times a week, gently scrub on wet skin in a circular motion, focusing on your dry areas.  Rinse with warm water.  Not intended to use on your face.  
This is a handmade product and colors of product may vary.
Keep Out of reach of children and pets/ for External use only/ Use as directed.
Do not use on broken or irritated skin. Discontinue use if irritation occurs.
Do not use if you have a nut allergy. Made in a facility that uses nut, coconut and soy products. 
Warning: Oil in product may cause tubs, showers and surfaces to become dangerously slippery. Consult with your physician before use if you're pregnant or planning to become pregnant.  Our company does NOT make any medical claims to our products and our products are not intended for medical use.  We will never give medical advice.